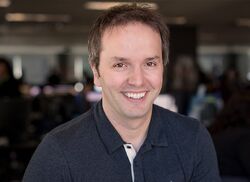 Marc-Alexis Côté is a programmer and level designer at Ubisoft Quebec, as well as the Creative Director for Assassin's Creed: Syndicate.
Biography
Edit
In 2005, Côté began as a programmer and engineer at Ubisoft, a function he would keep for several years. While working on Prince of Persia: The Forgotten Sands, he switched to Lead Level Designer, wanting to be more involved in the making of games. Following that, the Quebec studio contributed to the production of Assassin's Creed: Brotherhood, focusing on the exotic missions centering around Leonardo da Vinci's war machines.
During the development of Assassin's Creed III, Côté and his team worked on the Davenport Homestead missions that would concentrate more on Connor's compassionate qualities, as well as some more exotic missions. Afterwards, he was the Creative Director on the The Tyranny of King Washington DLC. While the Quebec studio later created the Freedom Cry DLC, Côté only worked on that project during the conception phase, before beginning development on Assassin's Creed: Syndicate.
Games credited
Edit
Reference
Edit
External links
Edit
Ad blocker interference detected!
Wikia is a free-to-use site that makes money from advertising. We have a modified experience for viewers using ad blockers

Wikia is not accessible if you've made further modifications. Remove the custom ad blocker rule(s) and the page will load as expected.