Maps
Talk

1
3,878pages on
this wiki
Redirected from Map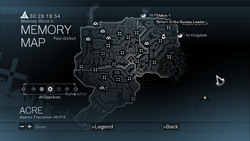 Maps were used to help the Assassins navigate around the cities, and plan assassinations or investigations. They acted as a compromise and visualization of Altaïr's and Ezio's memories of the cities layouts, as well as giving a sense of direction for Desmond Miles within the Animus.
More areas appeared on the Animus map after every successful climb and synchronization with a view-point. These virtual maps also marked certain key areas that could be recognized by a unique symbol.
Animus maps
Edit
High Middle Ages
Edit
While viewing the memories of Altaïr Ibn-La'Ahad in the Animus 1.28, the symbols indicated the Assassin's Bureau, investigation missions (eavesdropping, interrogation, pick-pocketing and Assassin informants), exits to the Kingdom, and the locations of citizens that could be saved, or had been saved, from soldiers. Additionally, it displayed the icon for Altaïr's assassination targets upon being granted the assassination by the city's bureau leader.[1]
Renaissance
Edit
While viewing the memories of Ezio Auditore da Firenze in the Animus 2.0, symbols were displayed to mark key memories, side memories (such as races or courier assignments), shops (art merchants, Doctors, blacksmiths, tailors, and Travel Stations), treasure chests and Assassins' tombs. The mini-map's frame color also indicated his social status.[2]
In Rome, along with the previous symbols, several new ones had been added. These included unique icons for the four guilds (Assassins Guild, Courtesans Guild, Mercenaries Guild and Thieves Guild), the Borgia towers, and Cristina Memories. Additionally, there was an option to change the view of the map to show the division of districts, the percentage of completion in each district, and the completion percentage of having freed Rome itself from the Borgia grasp.[3]
American Revolution
Edit
While viewing the memories of Haytham Kenway and Ratonhnhaké:ton during the American War of Independence, Desmond could still use view-points to fill his map, but walking through the city would reveal locations as well. The higher the ancestor was, more would be revealed around them.
References
Edit