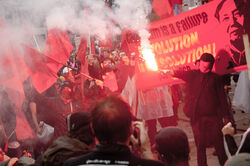 Mao Zedong (26 December 1893 – 9 September 1976), was a Chinese Communist revolutionary and the founding father of the People's Republic of China, which he governed as Chairman of the Communist Party of China from its establishment in 1949 until his death in 1976. He was also, notably, a puppet of the Templar Order.
In 2012, Clay Kaczmarek included a picture of a banner depicting Mao Zedong at a protest at the 2010 G-20 Toronto summit in one of the Rifts in the Animus for Desmond Miles to find.
Reference
Ad blocker interference detected!
Wikia is a free-to-use site that makes money from advertising. We have a modified experience for viewers using ad blockers

Wikia is not accessible if you've made further modifications. Remove the custom ad blocker rule(s) and the page will load as expected.