Ad blocker interference detected!
Wikia is a free-to-use site that makes money from advertising. We have a modified experience for viewers using ad blockers

Wikia is not accessible if you've made further modifications. Remove the custom ad blocker rule(s) and the page will load as expected.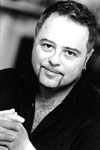 Manuel Tadros is a Canadian comedian, actor and author-composer. He was born in Québec and is the father of Canadian Cannes-awarded filmmaker Xavier Dolan. He physically portrayed Rodrigo Borgia in Assassin's Creed: Lineage and provided his likeness and his voice (both in English and French versions) to the character in Assassin's Creed II and Assassin's Creed: Brotherhood.
Assassin's Creed worksEdit
Assassin's Creed II (2009) - Rodrigo Borgia
Assassin's Creed: Lineage (2009) - Rodrigo Borgia
Assassin's Creed: Brotherhood (2010) - Rodrigo Borgia
External links
Edit