Main games:

Spinoffs:
Media

Development

Events
Apprentice Initiative

Article Tutorials

Top Articles

Community

Follow Us

Article Improvement
Bureaucrats


Administrators

Rafiq


Rafiq (cont.)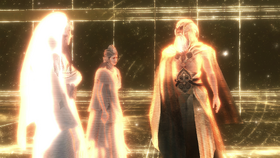 Ezio: "You are... gods."
Minerva: "No. Not gods. We simply came... before."
―Ezio Auditore da Firenze and Minerva, on the nature of the First Civilization, 1499.
The First Civilization, also known to some as Those Who Came Before, or the Precursors, was an ancient and advanced species of humanoid beings that were amongst the first to call Earth their home. They were responsible for the creation of the Pieces of Eden, as well as the human race itself, whom they used as a domestic workforce. With early humans unable to comprehend the First Civilization for what they truly were, they were looked upon as gods.
Eventually, war broke out between the First Civilization and their then unoppressed human slaves; this, coupled with the onset of what would be referred to as the "Toba catastrophe", would see the First Civilization slip into extinction. Despite this, their legacy would live on for thousands of years in various myths and legends. (read more...)

See all Featured Articles - Vote for Featured Articles
7,752 articles since July, 2007
25,238 images uploaded since July, 2007
52,000+ readers daily
4,281,900+ page views per month
622,000+ visits to the Assassin's Creed Wiki per month
86 user registrations since July, 2007
661,328 edits made since July, 2007
Do you want a modern day protagonist like Desmond in future games?
Do you want Ubisoft to continue releasing yearly installments?
Affiliates