Main games:

Spinoffs:
Media

Development

Events
Apprentice Initiative

Article Tutorials

Top Articles

Community

Follow Us

Article Improvement
Bureaucrats


Administrators

Rafiq


Rafiq (cont.)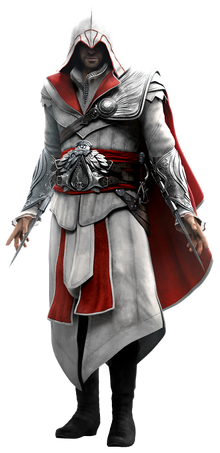 "I have lived my life as best I could, not knowing its purpose, but drawn forward like a moth to a distant moon; and here at last, I discover a strange truth. That I am only a conduit, for a message that eludes my understanding."
―Ezio Auditore da Firenze on his role as "the Prophet", 1512.
Ezio Auditore da Firenze (1459 – 1524) was a Florentine nobleman during the Renaissance, and, unbeknownst to most historians and philosophers, the Mentor of the Italian branch of the Assassin Order, a title which he held from 1503 to 1512. He was also an ancestor to Desmond Miles and Clay Kaczmarek.
A member of the House of Auditore, Ezio remained unaware of his Assassin heritage until the age of 17, when he witnessed the hanging of his father and two brothers, Federico and Petruccio. Forced to flee his birthplace with his remaining family members - his mother and sister - Ezio took refuge in the Tuscan town of Monteriggioni, at the Villa Auditore.
After learning of his heritage from his uncle, Mario Auditore, Ezio began his Assassin training and set about on his quest for vengeance against the Templar Order, and their Grand Master, Rodrigo Borgia, who had ordered the execution of his kin. (read more...)

See all Featured Articles - Vote for Featured Articles
7,527 articles since July, 2007
24,847 images uploaded since July, 2007
52,000+ readers daily
4,281,900+ page views per month
622,000+ visits to the Assassin's Creed Wiki per month
122 user registrations since July, 2007
654,438 edits made since July, 2007
Do you want a modern day protagonist like Desmond in future games?
Do you want Ubisoft to continue releasing yearly installments?
Affiliates