Home
Talk

204
5,425pages on
this wiki
Main games:

Spinoffs:
Media

Development

Events
Apprentice Initiative

Article Tutorials

Top Articles

Community

Follow Us

Article Improvement
Bureaucrats


Administrators

Rafiq


Rafiq (cont.)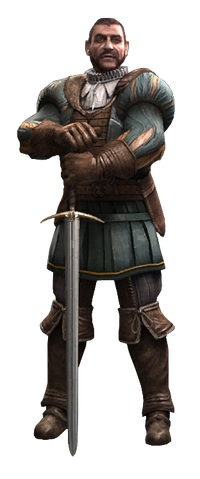 "You think that commanding an army grants you nobility? Nobility comes from fighting besides your soldiers, not kidnapping a woman to cheat your way out of battle."
―Bartolomeo to Octavian de Valois, 1503.
Bartolomeo d'Alviano (1455 – 1515) was a member of the Assassin Order, and the leader of Venetian and Roman mercenaries. Being a skilled and loyal fighter, as well as being in command of a fair amount of mercenaries, Bartolomeo was an important asset to the Assassin Order.
During his time in Venice, he befriended Ezio Auditore, later Mentor of the Italian Assassins, and together they managed to reconquer the Castello District, Bartolomeo's home, from Silvio Barbarigo, a Templar noble who had claimed it for himself. Bartolomeo was also present when Ezio was officially initiated into the Order. When Ezio infiltrated the Vatican, Bartolomeo assisted, causing trouble in Rome to keep the guards from stopping Ezio.
Bartolomeo and Ezio met again in Rome, where Bartolomeo and his wife, Pantasilea Baglioni, had settled in the Caserma di Alviano. There, Bartolomeo fought with both the Borgia forces and the French soldiers led by Octavian de Valois. Along with Ezio, he managed to weaken the Borgia enough for the Assassins to liberate the city. (read more...)

See all Featured Articles - Vote for Featured Articles



Mario Auditore sharing a conversation with his nephew




Altaïr Ibn-La'Ahad driving his Hidden Blade into a soldier

To write a new article, just enter the article title in the box below. Don't forget to categorize them!

Not sure where to start?

Things that need improvement

Adding content

Community

5,425 articles since July, 2007
20,761 images uploaded since July, 2007
52,000+ readers daily
4,281,900+ page views per month
622,000+ visits to the Assassin's Creed Wiki per month
145 user registrations since July, 2007
607,104 edits made since July, 2007

Who is your favorite protagonist?
Where would you most like to see Assassin's Creed go in the future?
Affiliates