Main games:

Spinoffs:
Media

Development

Events
Apprentice Initiative

Article Tutorials

Top Articles

Community

Follow Us

Article Improvement
Bureaucrats


Administrators

Rafiq


Rafiq (cont.)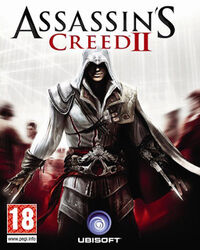 Assassin's Creed II is a sandbox style action-adventure video game developed by Ubisoft Montreal and published by Ubisoft. It was released on November 17, 2009 (US), November 19, 2009 (AU) and November 20, 2009 (worldwide) on PlayStation 3 and Xbox 360. The PC version was released on March 6, 2010 (UK) and March 9, 2010 (US).
A direct sequel to Assassin's Creed, the game is focused again on Desmond Miles after he escapes Abstergo Industries with employee Lucy Stillman. In an attempt to thwart Abstergo and the modern-day Templars, Desmond uses a new Animus to relive the genetic memories of his ancestor, Ezio Auditore da Firenze, who lived in Italy during the late fifteenth and early sixteenth centuries. The player controls Desmond, to a degree, but primarily Ezio, who becomes an Assassin after his family is betrayed. While controlling Ezio, the player can explore renditions of major Italian regions and cities through a mixture of action, stealth, and economic gameplay.
A direct sequel called Assassin's Creed: Brotherhood was released November 16, 2010. (read more...)

See all Featured Articles - Vote for Featured Articles
8,046 articles since July, 2007
25,486 images uploaded since July, 2007
52,000+ readers daily
4,281,900+ page views per month
622,000+ visits to the Assassin's Creed Wiki per month
85 user registrations since July, 2007
668,730 edits made since July, 2007
Do you want a modern day protagonist like Desmond in future games?
Do you want Ubisoft to continue releasing yearly installments?
Affiliates