Ezio: "You are... gods."
Minerva: "No. Not gods. We simply came... before."
―Ezio Auditore da Firenze and Minerva, on the nature of the First Civilization, 1499.
The First Civilization, also known to some as Those Who Came Before, or the Precursors, was an ancient and advanced species of humanoid beings that were amongst the first to call Earth their home. They were responsible for the creation of the Pieces of Eden, as well as the human race itself, whom they used as a domestic workforce. With early humans unable to comprehend the First Civilization for what they truly were, they were looked upon as gods.
Eventually, war broke out between the First Civilization and their then unoppressed human slaves; this, coupled with the onset of what would be referred to as the "Toba catastrophe", would see the First Civilization slip into extinction. Despite this, their legacy would live on for thousands of years in various myths and legends. (read more...)

See all Featured Articles - Vote for Featured Articles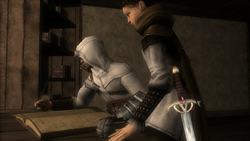 Altaïr Ibn-La'Ahad writing in his Codex, with Maria Thorpe beside him


Shao Jun standing over a dying Zhang Yong
To write a new article, just enter the article title in the box below. Don't forget to categorize them!
Not sure where to start?
Things that need improvement
Adding content
Community
8,775 articles since July, 2007
28,150 images uploaded since July, 2007
52,000+ readers daily
4,281,900+ page views per month
622,000+ visits to the Assassin's Creed Wiki per month
119 user registrations since July, 2007
707,855 edits made since July, 2007
Do you want a modern day protagonist like Desmond in future games?
Do you want Ubisoft to continue releasing yearly installments?
Affiliates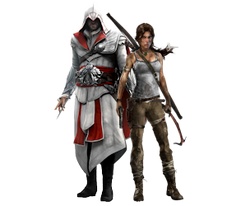 Action-Adventure Games
Go to these sites for info or for help with your own wiki!
ARK: Survival Evolved • Assassin's Creed • Bayonetta • The Binding of Isaac • Castlevania • Darksiders • Days Gone • Devil May Cry • Dragon's Crown • Fran Bow • God Eater • Grand Theft Auto • Gravity Rush • HITMAN • Horizon Zero Dawn • InFAMOUS • Just Cause • King's Quest • L.A. Noire • The Last of Us • Legacy of Kain • Legend of Zelda • LEGO Dimensions • LEGO Games • LEGO Marvel and DC • Lightseekers • Mafia • Metal Gear • Monster Hunter • Ninja Gaiden • Ōkami • Prince of Persia • Red Dead • Senran Kagura • Shenmue • Sleeping Dogs • Splinter Cell • System Shock • Tomb Raider • Uncharted • Watch Dogs • Yakuza
Want your community included? See how!

Ad blocker interference detected!
Wikia is a free-to-use site that makes money from advertising. We have a modified experience for viewers using ad blockers

Wikia is not accessible if you've made further modifications. Remove the custom ad blocker rule(s) and the page will load as expected.