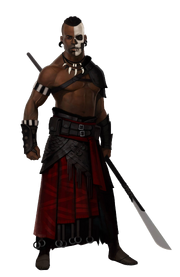 The Mackandal Bodyguard was an Animi Avatar that was used by Abstergo Industries, as part of their geosimulation workspace on the portable version of their Animus games console.
Base statistics
Edit
Reference
Edit
Primary stage
Secondary stage
Tertiary stage
Quaternary stage
Ad blocker interference detected!
Wikia is a free-to-use site that makes money from advertising. We have a modified experience for viewers using ad blockers

Wikia is not accessible if you've made further modifications. Remove the custom ad blocker rule(s) and the page will load as expected.