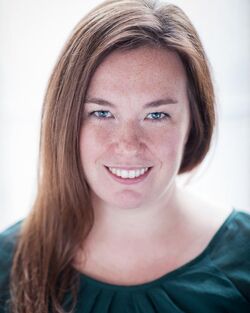 Lynsey-Anne Moffat is an Irish voice actress based in London. She voiced Rhona Dinsmore in Assassin's Creed IV: Black Flag.
Biography
Moffat attended Glenlola Collegiate School in Bangor. After studying for a degree in French and Hispanic Studies at Aberdeen University, she began work in rural touring and production development in South West Scotland. Although she enjoyed working in this aspect of the arts industry, she eventually decided to pursue a career in acting.
Moffat attended the Royal Scottish Academy of Music and Drama in Glasgow, graduating in 2011. She has since been active in theatre, film and television, appearing in shows including Outlander and Casualty and films such as Cupidity and The Angels' Share.
Moffat won Best Actress at VGIK International Film Festival in 2009 and the Sir John Geilgud Bursary in 2010. She was also nominated for the prestigious Spotlight Prize in 2011.
Assassin's Creed works
Assassin's Creed IV: Black Flag (2013) - Rhona Dinsmore
Trivia
Moffat is trilingual, speaking English, French and Spanish. She is also able to replicate a wide variety of accents, including Cockney, Scouse, Scottish, Australian, Boston and American.
External links