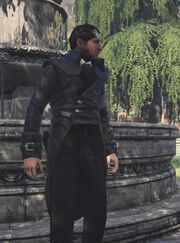 Louis Blake (unknown – 1868) was a member of the British Rite of the Templar Order. An outgoing individual, his parents packed him off to Cambridge in hope that an education would calm him down. After his education, still an outgoing individual, Blake returned to London.
Recruited into the Order, Blake became a staunch supporter of child labor, making recruitment speeches in parks and regularly convincing naïve children to follow him. In 1868, the Assassins Jacob and Evie Frye located him in St. James' Park, where he was preaching to a large crowd about the benefits of child labour, and shot him in the head with a pistol, killing him.
Reference
Edit
Ad blocker interference detected!
Wikia is a free-to-use site that makes money from advertising. We have a modified experience for viewers using ad blockers

Wikia is not accessible if you've made further modifications. Remove the custom ad blocker rule(s) and the page will load as expected.