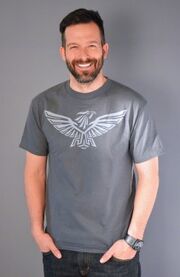 Louis-Pierre "LP" Pharand is a former Producer for transmedia and the former head of the Ubiworkshop for Ubisoft Montreal.
He worked closely with Darby McDevitt to develop various transmedia opportunities, as well as working with Cameron Stewart on integrating and preserving the continuity of The Fall and The Chain comics with the rest of the Assassin's Creed universe. He also worked on producing Assassin's Creed: Ascendance and Assassin's Creed: Embers, as well as Assassin's Creed: The Encyclopedia for the Assassin's Creed series.
Pharand previously held the position of Development Director at EA Montreal. When he joined in January 2004, he had the opportunity to be part of the GoldenEye: Rogue Agent and Medal of Honor: European Assault team. Before joining EA Montréal, Pharand was the Production Manager on the CG animated movie P3K Pinocchio 3000. He also occupied similar positions on multiple 2D animated series.
Games credited
Medal of Honor: European Assault (2005) - Electronic Arts
GoldenEye: Rogue Agent (2005) - Electronic Arts
Far Cry 2 (2008) - Ubisoft
External links