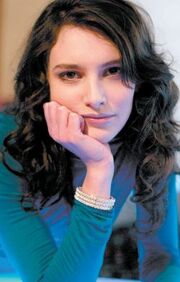 Liane Balaban (born 24 June 1980) is a Canadian actress. Her film debut was in New Waterford Girl (1999), playing Agnes-Marie "Moonie" Pottie, and has since appeared in the films Definitely, Maybe (2008), Last Chance Harvey (2009), and the independent drama One Week (2008).
Assassin's Creed worksEdit
External link
Edit
Ad blocker interference detected!
Wikia is a free-to-use site that makes money from advertising. We have a modified experience for viewers using ad blockers

Wikia is not accessible if you've made further modifications. Remove the custom ad blocker rule(s) and the page will load as expected.