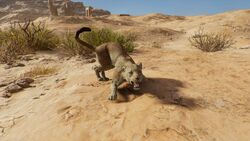 The leopard is a felid in the genus Panthera characterized by its yellow fur marked with rosettes.[1] Similar in appearance to the jaguar of the Americas,[2] it is native to Africa and Asia.
Historically, leopard furs were valued by humans in places such as Egypt for insulation against cold and windy weather. In 48 BCE, one leopard pelt was worth 50 drachma.[1]
Appearance
References
Ad blocker interference detected!
Wikia is a free-to-use site that makes money from advertising. We have a modified experience for viewers using ad blockers

Wikia is not accessible if you've made further modifications. Remove the custom ad blocker rule(s) and the page will load as expected.