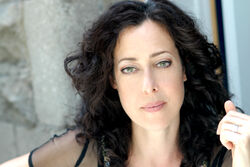 Leni Parker is a Canadian actress and voice actress. She has appeared in television shows such as Earth: Final Conflict, Lassie and The Dead Zone, as well as films including White House Down, Orphan and Out of Control.
Barring the Assassin's Creed series, Parker has also provided voice work for other videogames, such as Deus Ex: Human Revolution, in which she plays the roles of Yelena Fedorova and Nia Colvin.
Assassin's Creed worksEdit
External link
Edit
Leni Parker's profile on the International Movie Database
Ad blocker interference detected!
Wikia is a free-to-use site that makes money from advertising. We have a modified experience for viewers using ad blockers

Wikia is not accessible if you've made further modifications. Remove the custom ad blocker rule(s) and the page will load as expected.