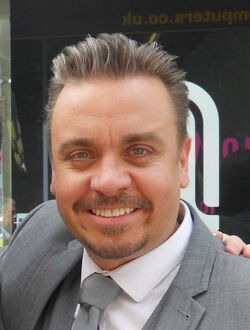 Lee Boardman (born 2 July 1972) is an English actor and narrator. He has voiced various characters for entries in the Assassin's Creed franchise.
Biography
Edit
Born in Manchester, England, Boardman attended Reddish Vale Technology College in Stockport, Greater Manchester, before he graduated from Oxford Drama School. Currently, he is married to Jennifer James, with the couple having one son, Jack Alexander, and a daughter, Scarlett Marie.
Boardman has appeared in several television shows, notably Drop Dead Gorgeous, in which he played Murray Priestman, in, Coronation Street and The Interceptor. He also did Rome, where he was Timon the Jew, and played Amerigo Vespucci in the historical fantasy drama series Da Vinci's Demons. Film-wise, Boardman starred in the film Fated and Jack the Giant Slayer.
Assassin's Creed worksEdit
His BBC series Drop Dead Gorgeous won Best Comedy Drama at the British Comedy Awards 2008.
External link
Edit
Ad blocker interference detected!
Wikia is a free-to-use site that makes money from advertising. We have a modified experience for viewers using ad blockers

Wikia is not accessible if you've made further modifications. Remove the custom ad blocker rule(s) and the page will load as expected.