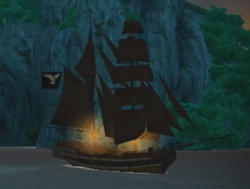 Le Postillon was a ship captained by the French pirate Olivier Levasseur during the early 18th century.
History
With the ship, Levasseur rescued Alonzo Batilla and Jumao from captain Barnes in June 1716, after which he gave the former a ship of his own.
In September 1717, Le Postillon was attacked by Templars in La Boca del Diablo. Levasseur survived the attack but the ship was destroyed. The wreck was later discovered by Alonzo and through clues found at the remains of the vessel, he found out what had happened.
Gallery
Reference
Ad blocker interference detected!
Wikia is a free-to-use site that makes money from advertising. We have a modified experience for viewers using ad blockers

Wikia is not accessible if you've made further modifications. Remove the custom ad blocker rule(s) and the page will load as expected.