Here we seek to open the minds of men.


This article is a stub and is in need of expansion. You can help the Assassin's Creed Wiki by expanding it.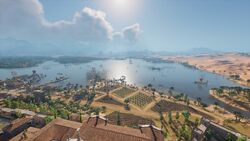 Lake Mareotis is a lake in northern Egypt which is separated from the Mediterranean Sea by the isthmus on which the city of Alexandria is built on.
In 48 BCE, the Medjay Bayek of Siwa travelled across the lake in search of Klaudios, an Alexandrian man who had gone missing from Yamu. There, he found Klaudious stranded on a column from an island ruin, surrounded by a pack of crocodiles. Bayek was able to eliminate the crocodiles and escorted Klaudious back to Yamu.[1]
Later, he returned to the island, investigating a series of mysterious killings conducted by a cult of Serqet in the ruins.[2]
Trivia
In Origins, Lake Mareotis is displayed as a region in Egypt including the lake.
Appearance
References