Laetitia England
Talk

5
5,429pages on
this wiki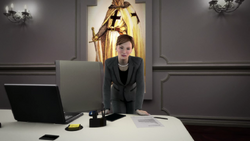 Laetitia England is a high-ranking executive in the Operations Division of Abstergo Industries and a member of the Inner Sanctum of the Templar Order. Her office was a secret room in Philadelphia first decorated in 1937, during the company's founding.
After Warren Vidic's training of Abstergo agents via the Animus, Laetitia welcomed Juhani Otso Berg into her office, where she revealed her intention for him to be on the front line in the Templars' efforts to eliminate the remnants of the Assassin Order.
On her orders, Daniel Cross injected a microchip into Berg's arm. Laetitia then informed him that the Templars needed to be certain that they had trustworthy agents operating throughout the world, and that through this chip, the Templars would be able to monitor his every move.
Once Abstergo had located the Assassin leader William Miles, Vidic and England summoned the Master Templars to her office and ordered a "retrieval team" to be constructed, with their primary aim to track down William and capture him.[1]
Later, on 17 November 2012, Laetitia called Vidic in panic, asking about an Assassin raid presided over by Desmond Miles into one of their offices in Manhattan, and Cross' involvement with it.[2]
In 2013, Laetitia supported Abstergo Entertainment's efforts to use the Animus to locate the Observatory. Though she desired immediate results, Olivier Garneau and Melanie Lemay said it would take time, but promised that their best employee would deliver. However, Olivier went missing en route to the shareholders meeting and Laetitia had no luck finding him.[3]
Her name was shown as "Laetitia" in the videos that composed part of Abstergo's files, but appeared as "Laeticia" in the dossiers included.
Laetitia is a Latin name meaning "happiness, joy".
In the cinematics that featured her in Assassin's Creed: Revelations, Laetitia was voiced by Amy Landecker, who reprises the role in Assassin's Creed IV: Black Flag.
Laetitia was one of four members of the Inner Sanctum who were a part of the Operations division of Abstergo, the other three being Daniel Cross, Isabelle Ardant and Otto Schmidt. In total, the four made up half of the Templar Order's Inner Sanctum until Berg's induction.
In the non-canonical modern day storyline of the Assassin's Creed comic series, Laetitia is the head of two Abstergo Industries initiatives: Project Hydra and Project Horus.
References
Edit