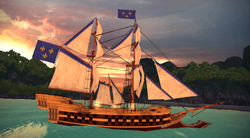 L'Amazone was a French Navy brig and a legendary ship encountered by the pirate Alonzo Batilla in Scorpion Reef, during the early 18th century.
Built in Toulon in 1707, L'Amazone was fast and maneuverable, often accompanied by smaller escort ships.
Despite the poor condition of the French Navy at the turn of the 18th century, some of the ships built during the expansionist rule of Louis XIV of France still protected the trade routes between France and its colonies in the West Indies. L'Amazone was an example of this.
Gallery
Reference
Ad blocker interference detected!
Wikia is a free-to-use site that makes money from advertising. We have a modified experience for viewers using ad blockers

Wikia is not accessible if you've made further modifications. Remove the custom ad blocker rule(s) and the page will load as expected.