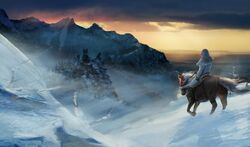 Krasnoyarsk is the third largest city in Siberia, and the administrative center of the Krasnoyarsk Krai, Russia, located on the Yenesei River.
In 1917, the Assassin Nikolai Orelov traveled to Krasnoyarsk to infiltrate the city's asylum and free Khioniya Guseva, a former disciple of Grigori Rasputin.
Reference
Edit
Ad blocker interference detected!
Wikia is a free-to-use site that makes money from advertising. We have a modified experience for viewers using ad blockers

Wikia is not accessible if you've made further modifications. Remove the custom ad blocker rule(s) and the page will load as expected.