Knight's Hospital
Talk

2
3,881pages on
this wiki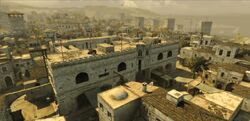 Knight's Hospital, also known as the Hospital of the Knights of Midsummer's Day, is a location in Rhodes that was used by Abstergo Industries as a simulated training arena, in the second stage of the Animi Training Program.
The area was a large castle that was inhabited by patients or injured knights. Small markets and complex buildings surrounded the location, as well as the famed Temple of Apollo.
The construction of the castle was decided by Antoine Fluvian of the River, but work began only three years after his death in 1440. Despite the work continuing under the magister of Jean Bonpart de Lastic, it was only completed in 1489 by Pierre d' Aubusson.
In 1522, the patients of the hospital came to the assistance of the knights, in order to help push back the invasion of Suleiman I.
Reference
Edit