Here we seek to open the minds of men.


This article is a stub and is in need of expansion. You can help the Assassin's Creed Wiki by expanding it.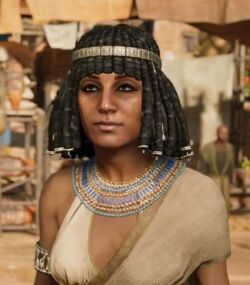 Khenut (c. 90s BCE – unknown) was the Egyptian wife of Hotephres, an informant of Apollodorus with whom he investigated the mysterious Order of the Ancients. Khenut lived in Euhemeria, with her and Hotephres' daughter, Shadya.
Biography
Around 48 BCE, Hotephres sent the Medjay, Bayek, to recover a stolen ledger that contained informations about the true identity of the Crocodile, which he gave to his wife to hide. Bayek travelled to Euhemeria, where he met with Khenut and Shadya in her kitchen. As Bayek gave a doll to Shadya passed to him Hotephres, Khenut informed him she had hidden the ledger in their villa that had been now been ransacked by the Ptolemies.[1]
Trivia
Appearance
References