He who increaseth knowledge, increaseth sorrow.


This article contains spoilers, meaning it has information and facts concerning recent or upcoming releases from the Assassin's Creed series. If you do not want to know about these events, it is recommended to read on with caution, or not at all.

This template should be removed from the article 5 January 2019.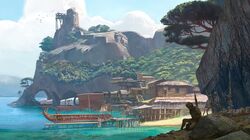 Kephallonia is a Greek island located in the west of the Korinthian Gulf, famed as the home region of Odysseus,[1] the titular protagonist of Homer's epic Odyssey.[2]
Once a wealthy island, its timber-based economy had substantially declined by the time of the Peloponnesian War. In that conflict, it could not escape the chaos that came to engulf it. In the 5th century BCE, it was sparsely populated and was known for its diverse landscape, which included the peaks of Mount Ainos and the sands of Myrtos Beach.[1]
Together with Ithaka, Kephallonia formed the Kephallonia Islands.[1]
History
Sometime in the mid-440s BCE, a young Kassandra washed up on the shore of Kephallonia. She was discovered by Markos, a passerby and resident of the island. He took her in and raised her into the legendary misthios she would become.
Gallery
Appearance
References