Here we seek to open the minds of men.


This article is a stub and is in need of expansion. You can help the Assassin's Creed Wiki by expanding it.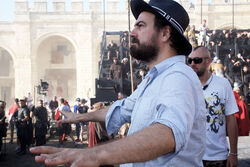 Justin Kurzel (born 3 August 1974) is an Australian film director. He directed the Assassin's Creed film that released in 2016. He previously collaborated with star and producer Michael Fassbender, as well as actress Marion Cotillard, on a 2015 film version of William Shakespeare's Macbeth. His brother Jed Kurzel also composed the film's score.
External link
Ad blocker interference detected!
Wikia is a free-to-use site that makes money from advertising. We have a modified experience for viewers using ad blockers

Wikia is not accessible if you've made further modifications. Remove the custom ad blocker rule(s) and the page will load as expected.