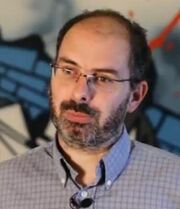 Julien Cuny is a former transmedia development director at Ubisoft Montreal. He worked on several of Ubisoft's well-known franchises, such as Assassin's Creed, Tom Clancy and Far Cry. He was also the producer behind the Assassin's Creed Encyclopedia.
Games credited
Edit
Far Cry: Instincts - Predator (2006) - Ubisoft
Far Cry: Instincts - Evolution (2006) - Ubisoft
Lost: Via Domus (2008) - Ubisoft
Far Cry 2 (2008) - Ubisoft
External links
Edit
Ad blocker interference detected!
Wikia is a free-to-use site that makes money from advertising. We have a modified experience for viewers using ad blockers

Wikia is not accessible if you've made further modifications. Remove the custom ad blocker rule(s) and the page will load as expected.