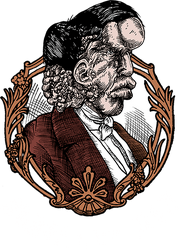 Joseph Carey Merrick (5 August 1862 – 11 April 1890), occasionally referred to as John Merrick, was a severely deformed Englishman who was exhibited under the name of the Elephant Man.
Coming into great demand, Merrick made a world tour, stopping in London, where people could touch his large growths and take a picture with him.
Reference
Ad blocker interference detected!
Wikia is a free-to-use site that makes money from advertising. We have a modified experience for viewers using ad blockers

Wikia is not accessible if you've made further modifications. Remove the custom ad blocker rule(s) and the page will load as expected.