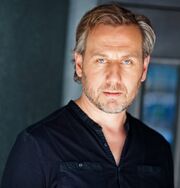 Jonathan Lloyd Walker (born 13 September 1967) is an English actor who voiced James Barrett in Assassin's Creed III.
Biography
Edit
Jonathan grew up in England but currently resides in Canada. He began his professional career after completing military service as an officer in the Canadian Infantry. He is well known for his roles in films like Shooter, RED and The Thing. He also played Rankor in the television series Flash Gordon.
External link
Edit
Ad blocker interference detected!
Wikia is a free-to-use site that makes money from advertising. We have a modified experience for viewers using ad blockers

Wikia is not accessible if you've made further modifications. Remove the custom ad blocker rule(s) and the page will load as expected.