Here we seek to open the minds of men.


This article is a stub and is in need of expansion. You can help the Assassin's Creed Wiki by expanding it.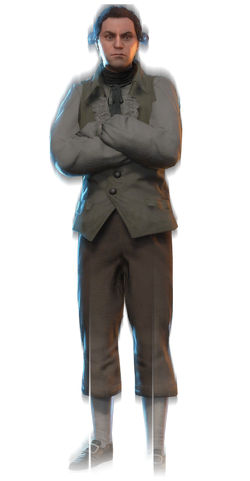 Jean-Paul Marat (24 May 1743 – 13 July 1793) was a physician, political theorist and scientist, as well as a radical journalist and politician during the French Revolution.
Marat signed a letter which authorized a violent gang to rob graves in Île de la Cité. However, the Assassin Arno Dorian stole the letter, eliminating the gang's activities.[1]
Marat was assassinated by Charlotte Corday in 1793 while taking a medicinal bath. Arno Dorian investigated the circumstances of his death.[1]
In 2012, Clay Kaczmarek included Marat in one of the Glyphs inside the Animus for Desmond Miles to find.[2]
Appearance
References