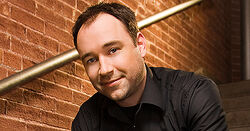 Jean-François Boivin is a French-Canadian video game designer, and was formerly an Associate Producer of the Assassin's Creed series at Ubisoft Montreal.
He studied at both the Université de Montréal, and HEC Montréal. Before becoming an associate producer, Boivin worked as both a Project Manager and a Production Manager at Ubisoft.
External link
Edit
Ad blocker interference detected!
Wikia is a free-to-use site that makes money from advertising. We have a modified experience for viewers using ad blockers

Wikia is not accessible if you've made further modifications. Remove the custom ad blocker rule(s) and the page will load as expected.