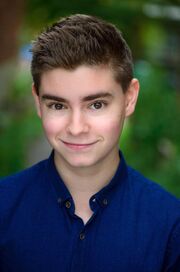 Jamie Mayers (born February 25, 1999) is a Canadian actor most well known for his portrayal of Seth Millwood on the children's sitcom Game On. He also portrayed recurring character Sam in the Geek & Sundry web series LARPs. He has lent his voice talent for Assassin's Creed III and Assassin's Creed Origins as Young Connor and Ptolemy XIII respectively.
Assassin's Creed works
External Links
Ad blocker interference detected!
Wikia is a free-to-use site that makes money from advertising. We have a modified experience for viewers using ad blockers

Wikia is not accessible if you've made further modifications. Remove the custom ad blocker rule(s) and the page will load as expected.