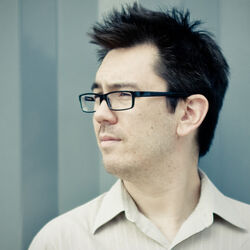 James Nadiger is a Scriptwriter from Vancouver employed at Ubisoft Montreal. His specialties include scriptwriting, transmedia, journalism, public relations, story consulting and marketing, many of which he has used while working on the Assassin's Creed franchise.
Biography
Edit
Nadiger's first job in the gaming industry was writing ambient dialogue for True Crime: Hong Kong, a game that was initially cancelled, but eventually released as Sleeping Dogs in 2012. Following this, he worked various freelance jobs before deciding to move to Toronto, in an attempt to break into the film and TV industry.[1]
Nadiger applied for positions at Ubisoft Toronto on Splinter Cell: Blacklist, which was in production at the time, but did not get hired. In Spring 2012,[2] while working on an animated script, he was contacted by Ubisoft and asked to work on the second edition of the Assassin's Creed Encyclopedia. He was subsequently brought on board for a five-week period to start up Assassin's Creed: Initiates. Since he was still working freelance at the time, Nadiger also penned some writing for Batman: Arkham Origins, before being permanently hired by Ubisoft.[1]
Nadiger continued to work on Initiates, contributing to the Surveillance stories and Eseosa's "Letters to the Dead",[2] and later created material for Assassin's Creed: Rogue; he wrote the present day dialogue and unlockable files, as well as the Animus database entries and war letters. Creating ambient material such as NPC dialogue was also one of his responsibilities.[1] Nadiger reprised this role for Assassin's Creed: Syndicate, being responsible for the game's modern day segments.[3]
References
Edit
External links
Edit