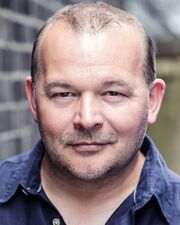 James Barriscale (born 11 May, 1969) is an English/Irish actor and voice actor, and television actor. James has voiced characters from The Witcher 2: Assassins of Kings, Killzone 3, Fable III, and The Adventures of Tintin: The Secret of the Unicorn video game.
He has starred in television series such as The Vice, The Bill, Holby City, Wizards vs. Aliens, WPC 56, and Casualty.
Assassin's Creed works
External Links
Ad blocker interference detected!
Wikia is a free-to-use site that makes money from advertising. We have a modified experience for viewers using ad blockers

Wikia is not accessible if you've made further modifications. Remove the custom ad blocker rule(s) and the page will load as expected.