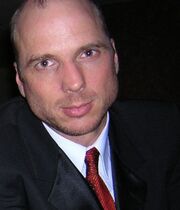 Jake Eberle is an actor and sound editor. Eberle has assisted in sound editing in a large number of films and has appeared in films such as Resilience, Who's Kyle?, and The Breed. He has also appeared in TV shows such as Criminal Minds, Invasion, and Dark Asylum. He has also voiced characters in video games such as TimeShift, Gothic 3, and Spy Hunter: Nowhere to Run.
In the Assassin's Creed series, Eberle provides the voice and model[1] of Talal, as well as miscellaneous voices in Assassin's Creed.
Assassin's Creed worksEdit
External links
Edit
Reference
Edit
Ad blocker interference detected!
Wikia is a free-to-use site that makes money from advertising. We have a modified experience for viewers using ad blockers

Wikia is not accessible if you've made further modifications. Remove the custom ad blocker rule(s) and the page will load as expected.