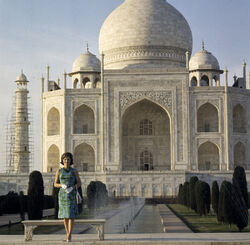 Jacqueline Lee "Jackie" Bouvier Kennedy Onassis (28 July 1929 – 19 May 1994) was the wife of the 35th President of the United States, John F. Kennedy, until his assassination in 1963.
In 2012, Clay Kaczmarek included Jacqueline in one of the Rifts inside the Animus for Desmond Miles to find.
Reference
Edit
Ad blocker interference detected!
Wikia is a free-to-use site that makes money from advertising. We have a modified experience for viewers using ad blockers

Wikia is not accessible if you've made further modifications. Remove the custom ad blocker rule(s) and the page will load as expected.