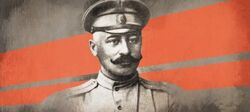 Jānis Judiņš (17 January 1884 – 1918) was a commander of the Latvian Riflemen of the Red Army during the Russian Civil War.
On 7 September 1918, the 5th Army arrived at Kazan to aid the Red Army in taking the city from the Tsarist forces of the White Army. Judiņš was ordered to bring the news to Red Army commander Leon Trotsky, although the Assassin Nikolai Orelov incapacitated him before he could do so, wishing to meet with Trotsky before an offensive was launched.
Reference
Edit
Ad blocker interference detected!
Wikia is a free-to-use site that makes money from advertising. We have a modified experience for viewers using ad blockers

Wikia is not accessible if you've made further modifications. Remove the custom ad blocker rule(s) and the page will load as expected.