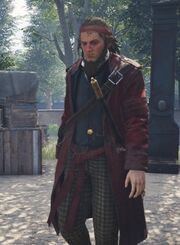 Ivan Bunbury was a British criminal active in London during the Victorian era.
Bunbury was a member of the Blighters, and had progressed high enough in their ranks to take his orders directly from Lilla Graves, the Templar gang leader of Westminster. Along with several loyal and skilled allies, he was ordered to establish a Blighter outposts on the grounds of Buckingham Palace, with the express intention of harassing Queen Victoria.
The Metropolitan Police Service considered these actions a violation of the law, disturbing the peace and trespassing on private property, and wanted Bunbury to be brought in. Sergeant Frederick Abberline worked with the twin Assassins, Jacob and Evie Frye, to locate and capture Bunbury.
Reference
Edit
Ad blocker interference detected!
Wikia is a free-to-use site that makes money from advertising. We have a modified experience for viewers using ad blockers

Wikia is not accessible if you've made further modifications. Remove the custom ad blocker rule(s) and the page will load as expected.