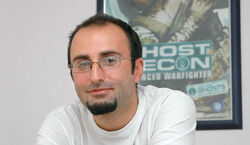 Ivan Balabanov is the Managing Director at Ubisoft Sofia in Bulgaria. Before attaining said position, he worked on a few projects as 3D Artist.
Biography
While doing a double major in Political Science, International Relations and History, Balabanov supported himself financially by freelancing as a 3D Artist. In 2003, he elected to drop his PhD in Foreign Affairs at the University of Manchester, instead starting a career in the video game industry.[1] Balabanov joined Ubisoft in 2005 as a 3D Artist, one year prior to the opening of the company's branch in Sofia.[2]
During this time, he worked on the PS2 version of CSI: 3 Dimensions of Murder, originally developed by Telltale Games, as well as Chessmaster Live, released on the XBox Live Arcade.[3] Balabanov assumed the role of Production Manager in 2007, subsequently becoming the studio's Managing Director two years later; he also contributed to several of the studio's projects as Producer. Under his supervision, Ubisoft Sofia expanded notably, shipping 15 titles on a wide range of platforms as of 2014.[2]
Games credited
References
External links