Into the Shadows was a virtual representation of one of Ezio Auditore da Firenze's genetic memories, relived by Desmond Miles in 2012 through the Animus.
Description
Edit
Having discovered Tarik Barleti's involvement in a weapons deal with Manuel Palaiologos. Ezio Auditore traveled back to Prince Suleiman I to tell him of his discoveries. Ezio then set off to acquire a Janissary outfit.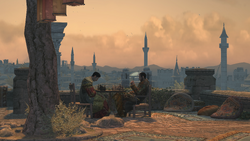 Suleiman and Ahmet were playing a game of chess.
Ezio walked up to Suleiman as Ahmet left.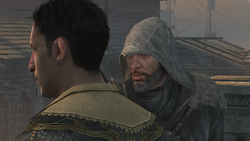 Ezio acquired a Janissary outfit and was ready to infiltrate the Janissary camp.
Reference
Edit
Ad blocker interference detected!
Wikia is a free-to-use site that makes money from advertising. We have a modified experience for viewers using ad blockers

Wikia is not accessible if you've made further modifications. Remove the custom ad blocker rule(s) and the page will load as expected.