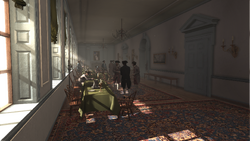 Independence Hall is a building in Philadelphia, Pennsylvania, within which the Declaration of Independence was signed.
History
Independence Hall was built between the 1730s and 1750s to be the Pennsylvania State House. The architecture is Georgian, a style popular at the time.
Some of the most important documents in the American Revolution came out of this building; the Declaration of Independence was first debated and signed here, and the United States Constitution was drafted here. Also, the Liberty Bell rang in the bell tower to summon people to meetings.
Up to the year 1800, it was the official residence of the American government, until it was replaced by the larger and newer Capitol Building in Washington, D.C.
The building became known as Independence Hall in the 1820s - a result of the Marquis de Lafayette making a return trip to the United States. Lafayette's visit was meant to commemorate the 50th anniversary of the revolution, and to remind a new generation what had happened and where.
Gallery
Reference