Here we seek to open the minds of men.


This article is a stub and is in need of expansion. You can help the Assassin's Creed Wiki by expanding it.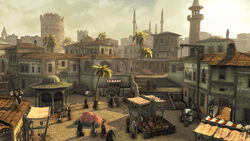 The Imperial District was one of the four major districts within Constantinople during the Renaissance. It was an area of towering marble buildings, majestic mosques and opulent citizenry. It is home to the Hagia Sophia.
In 2012, Abstergo Industries used the district as a virtual training map for their recruits during the second stage of the Animi Training Program.
The Imperial district, like most of the simulated locations in the primary and secondary stage, had two aesthetic variations. As such, it could be utilized at dawn or at dusk.
Gallery
Reference
Ad blocker interference detected!
Wikia is a free-to-use site that makes money from advertising. We have a modified experience for viewers using ad blockers

Wikia is not accessible if you've made further modifications. Remove the custom ad blocker rule(s) and the page will load as expected.