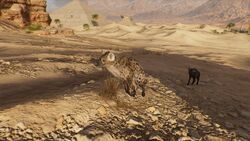 This article is about the species. You may be looking for the Hyena, a member of the Order of the Ancients or the genetic memory named after her.
Hyenas are a species of feliform mammals endemic throughout Africa, western Asia, and India.
In the 1st century BCE, hyena ears were in demand in Egyptian markets.
Reference
Ad blocker interference detected!
Wikia is a free-to-use site that makes money from advertising. We have a modified experience for viewers using ad blockers

Wikia is not accessible if you've made further modifications. Remove the custom ad blocker rule(s) and the page will load as expected.