Where are the paintings?


This article is in need of more images and/or better quality pictures in order to achieve a higher status. You can help the Assassin's Creed Wiki by uploading better images on this page.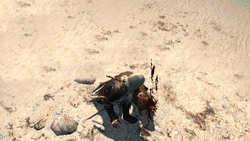 Hutias are large rodents of the family Capromyidae that are unique to the Caribbean. Varying in size, they often form different species from island to island. They are hunted in the region for food, and are spiced in a stew with either onions, green peppers, tomatoes and garlic, or honey and wild nuts.
During the early 18th century, the pirate Edward Kenway hunted hutias for their hide, from which he crafted a pouch for smoke bombs. When he met the Master Assassin Opía Apito at Cayman Sound in 1716, the latter challenged him to a hunting contest over who could gather the most hutia hides within a few minutes.
Reference