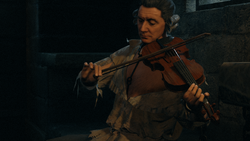 Gabriel-Charles-Joseph-Paulin-Hubert, comte de Solages (18 December 1746 – 1825) was a French aristocrat and prisoner of the Bastille from 1784 to 1789.
Imprisoned in the Bastille for sexual deviancy, it has been suggested that de Solages was accused of "libertinism" by his relatives so that they could lay claim to the land he owned.[1] De Solages passed the time in prison with various hobbies, such as playing the violin.[2] After he was freed in the storming of the Bastille in 1789, de Solages' name was used for the fictional character of the Comte de Lorges.[1]
References
Ad blocker interference detected!
Wikia is a free-to-use site that makes money from advertising. We have a modified experience for viewers using ad blockers

Wikia is not accessible if you've made further modifications. Remove the custom ad blocker rule(s) and the page will load as expected.