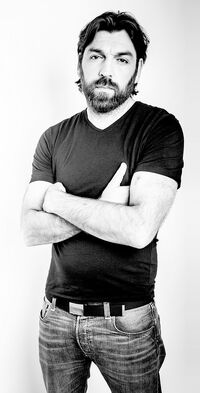 Hovik Keuchkerian (born 14 November 1972) is an Armenian actor, writer, stand-up comedian and former boxer who portrays Ojeda in the Assassin's Creed movie.
Keuchkerian has previously appeared in television series such as Isabel, The Night Manager and Hispania, la leyenda, as well as films including Justi&Cia, Alacrán enamorado and Toro.
Assassin's Creed worksEdit
Assassin's Creed (2016) - Ojeda
External links
Edit
Ad blocker interference detected!
Wikia is a free-to-use site that makes money from advertising. We have a modified experience for viewers using ad blockers

Wikia is not accessible if you've made further modifications. Remove the custom ad blocker rule(s) and the page will load as expected.