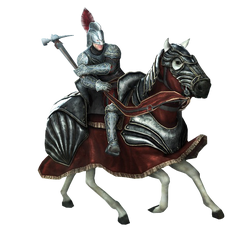 Horsemen was a term given to those who rode horses as a part of their daily life. Guards who were capable of wielding a variety of weapons and riding on horseback were a common sight through Renaissance Europe.
Equipment
Edit
Horsemen were mounted on one of two varieties of horse, being either the common horse or the warhorse.
They were equipped with both short-ranged weapons such as swords or blunt weapons, and long-ranged weapons like throwing knives and crossbows. However, they did not possess long or heavy weapons.
When a horseman detected an Assassin on foot, they would either charge at them with their short-ranged weapon at the ready, or they would attempt to strike the Assassin with their long-ranged weapon if they tried to flee or begin freerunning.
Horsemen often held an advantage in a fight, as they could move faster, and could use their steeds to knock over enemies on the ground. However, they were vulnerable to long-ranged weapons, and could be unseated if their horses were injured while charging. Should they be unsaddled, horsemen would either challenge their enemies on the ground, or attempt to re-mount their horse.
Reference
Edit