Here we seek to open the minds of men.


This article is a stub and is in need of expansion. You can help the Assassin's Creed Wiki by expanding it.
"The issues are much too important for the Chilean voters to be left to decide for themselves."
―Henry Kissinger on the status of Chile, 1970.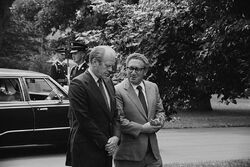 Henry Alfred Kissinger (born 27 May 1923) is a German-born American political scientist, diplomat, and 1973 recipient of the Nobel Peace Prize.
Kissinger served as the United States' Secretary of State to President Richard Nixon beginning in 1969. Kissinger was secretly associated with Abstergo Industries, and masterminded a plan to overthrow the pro-communist Chilean government in 1973. Salvador Allende, the Chilean president, was killed during the coup d'état and replaced by an Abstergo-supported military junta led by Augusto Pinochet.
Reference
Edit
Ad blocker interference detected!
Wikia is a free-to-use site that makes money from advertising. We have a modified experience for viewers using ad blockers

Wikia is not accessible if you've made further modifications. Remove the custom ad blocker rule(s) and the page will load as expected.