Ad blocker interference detected!
Wikia is a free-to-use site that makes money from advertising. We have a modified experience for viewers using ad blockers

Wikia is not accessible if you've made further modifications. Remove the custom ad blocker rule(s) and the page will load as expected.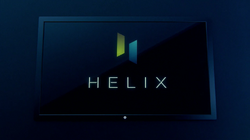 Helix is a cloud-based software developed by Abstergo Entertainment.
A continuation of the Data Dump Scanner, a creation of Álvaro Gramática,[1] the Helix software allowed for accounts of various Templars and Assassins throughout history, with propaganda-based narrations delivered by Abstergo in favor of the former, delivered to the public via a games console-style format at a cheap price.[2] Using the headsets, Abstergo can also collect players' genetic data.[3]
Through Helix, a research analyst at Abstergo Entertainment relived Shay Cormac's memories and fixed the damage caused by a virus hidden within Shay's memory bank.[4]
Around the same time, an individual associated with the Assassins used a game console running on the Helix software to relive the memories of Arno Dorian,[2] and Jacob and Evie Frye.[5]
Helix memories
Edit
The Helix menu presented the user with twelve memories, although the Helix initiate could access and play only The Tragedy of Jacques de Molay. Nine of these correspond to events related in eight real-world Assassin's Creed games, while the last three don't.
Abstergo Entertainment's Helix Navigator used a Hospitalier Antivirus program, referencing the Knights Hospitalier.
References
Edit