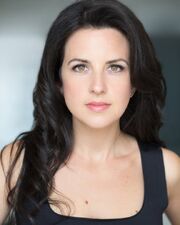 Helen Johns is a British theatre, film and voice actress working out of Toronto, Canada. She did the voice and motion capture for Florence Nightingale, a historical figure appearing in Assassin's Creed: Syndicate.
She has appeared in television series including Helix, Covert Affairs, Murdoch Mysteries and Space Janitors and films such as Chalice and How to Build a Better Boy. Outside of her work for the Assassin's Creed series, Johns has also done voice work for Tom Clancy's The Division.
Assassin's Creed worksEdit
Assassin's Creed: Syndicate (2015) - Florence Nightingale
External links
Edit
Ad blocker interference detected!
Wikia is a free-to-use site that makes money from advertising. We have a modified experience for viewers using ad blockers

Wikia is not accessible if you've made further modifications. Remove the custom ad blocker rule(s) and the page will load as expected.