"I've enclosed a picture from Florida of you, me, and Firestone. We should attempt to spend more time on the golf course this summer."
―Henry Ford in a letter to Thomas Edison, 1929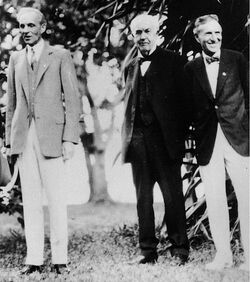 Harvey Samuel Firestone (20 December 1868 – 7 February 1938) was the founder of the Firestone Tire and Rubber Company, one of the first global makers of automobile tires and an important contributor to North American economic growth during the 20th century.
Firestone was a member of the Templar Order alongside his fellow leaders of American industry, Thomas Edison and Henry Ford.
Reference
Ad blocker interference detected!
Wikia is a free-to-use site that makes money from advertising. We have a modified experience for viewers using ad blockers

Wikia is not accessible if you've made further modifications. Remove the custom ad blocker rule(s) and the page will load as expected.