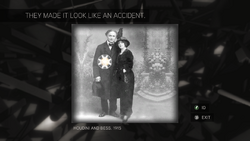 Erik Weisz (24 March 1874 – 31 October 1926), better known under the stage name of Harry Houdini, was a Hungarian-American magician and escapologist, stunt performer, actor, and film producer.
In truth, the secret behind Houdini's tricks was an Apple of Eden, for which he was killed by the Templars, so that the Order could take it into their possession.
Trivia
Gallery
Reference
Ad blocker interference detected!
Wikia is a free-to-use site that makes money from advertising. We have a modified experience for viewers using ad blockers

Wikia is not accessible if you've made further modifications. Remove the custom ad blocker rule(s) and the page will load as expected.