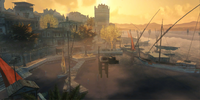 The Harbor of Julian was a small port on the southern edge of Constantinople's peninsula that opens into the sea of Marmara.
Though small, the Harbor of Julian would have been the perfect port to receive Byzantine royalty in Constantinople's earliest days, due to its close proximity to the Hippodrome and the Great Palace.
In Ottoman times, after the opening of the Grand Bazaar near the northern edge of the peninsula, merchants found it easier to bring their goods to the city via the northern ports, and this – combined with the Sultan's move to Topkapı Palace on First Hill – made the Harbor of Julian a less attractive port.
Reference
Edit
Ad blocker interference detected!
Wikia is a free-to-use site that makes money from advertising. We have a modified experience for viewers using ad blockers

Wikia is not accessible if you've made further modifications. Remove the custom ad blocker rule(s) and the page will load as expected.