Hamid
Talk

2
4,610pages on
this wiki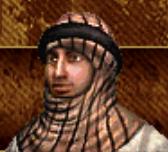 Hamid was an Assassin agent located in the city of Tyre, and was the Rafiq of the city.
Biography
Edit
In 1190, Hamid was sought out by his fellow Assassin Altaïr Ibn-La'Ahad, who had come to him for information. Hamid informed him that Roland Napule had been questioning someone in his hospital. With this information, Altaïr was able to infiltrate the hospital, assassinate Napule and gain a key to the Temple of the Sand.
Some time after that, Hazad was attacked by a group of Templars, who stole his map of the Temple where the Chalice was held. Altaïr went to the Temple himself, but discovered that the Chalice had already been moved. He then traveled back to Tyre, where he met up with Hamid again.
Hamid then informed Altaïr that, in order to infiltrate the local Templar stronghold, he had to free two of their brothers who had been taken captive. Altaïr managed to do so and managed to infiltrate the stronghold with their help.
The name Hamid is an Arabic name that means "praised", related to the name Muhammad, meaning "praiseworthy." Depending on whether the 'a' or the 'i' is stressed, Hamid can also mean "one who praises (God)."
References
Edit